One of the struggles we can all probably relate to is taking care of our hair. Usually, this process requires incorporating certain habits into our lifestyle so that we can keep our strands strong and healthy. Following a nutritious diet is always a good idea, but sometimes, it's just not enough. Every once in a while, there may be a need for supplementation.
If you're looking for a supplement that will improve your hair's quality, we asked medical experts Dr. Gaby Longsworth, PHD Scientist, Certified Hair Practitioner and Owner of Absolutely Everything Curly and Elizabeth Mullans M.D. from Uptown Dermatology for the one supplement that boosts hair growth, radiance, and shine. Keep reading for their tips and find out how you can maintain healthy hair in the simplest and best way possible.
Win $275 worth of hair products!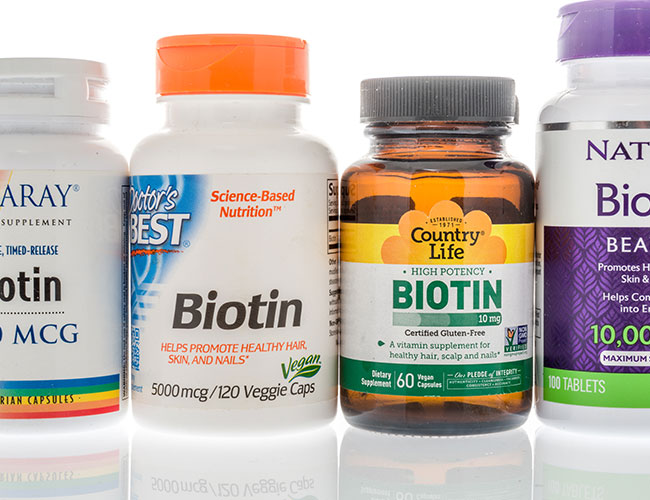 Shutterstock
Biotin
Out of the many supplements in the market, biotin is your best bet if you want to combat weak hair. According to Dr. Mullans, "Biotin helps curb hair fall, stimulates keratin production in hair, and can speed up the rate of follicle growth." Not only does it target your hair, but it also helps strengthen other bodily functions. She adds, "[Biotin] is excellent for your skin, as it provides nutrients to boost the skin's collagen production."
Dr. Longsworth agrees and mentions that this supplement "is believed to be beneficial for hair growth because a deficiency in biotin is linked to hair loss." For stronger nails and better hair growth, she also recommends trying collagen (powder) supplements.
Shutterstock
Hair Care Habits To Maintain Healthy Hair
Obviously, to improve the quality of your hair you can't just rely on supplements alone. Dr. Longsworth clarifies that "habits for healthy hair include those from the inside (diet) as well as the outside (hair washing, drying, etc.)." Making an effort to look after your hair externally is just as important as being conscious about the food you eat and the supplements you take. In order to maintain healthy hair, check out Dr. Longsworth's tips below:
Stay hydrated.
"Drink lots of fresh, clean, water every day–ideally half your body weight in ounces. Eat a healthy diet and vary things up. The more colorful your plate, the higher the chances that you are getting all the vitamins and minerals you need for healthy hair.  Avoid fad diets and stick to moderation and the sources listed above."
Pay attention to your scalp.
"To maintain healthy hair, you also need a healthy scalp. Avoid using harsh cleansers with a high pH as these disrupt the acid mantle on the scalp and also damage the hair's cuticle layer leading to dryness. The scalp produces sebum which is nature's perfect moisturizer. Washing too often also has a negative effect and can lead to overproduction or underproduction of sebum. Jojoba oil comes the closest to sebum in its composition and a few drops massaged into a dry scalp can be very effective."
Always do your research and check the ingredients of the products you are using.
"Use only quality products (by studying the ingredient lists and educating yourself). Avoid high heat, harsh chemical treatments, and bleaching. Use a bond builder such as Olaplex#3 to mitigate the damaging effects of these treatments."
Consider the water that you use.
"One important factor for healthy hair that is often overlooked is the water.  When washing your hair, you need fresh, soft water.  Hard water or water full of minerals is very bad for the hair and scalp.  Even the best products and techniques can't fix the damaging effects of hard water.  Install a shower head water filter to ensure the best possible outcome for your hair. Using a scalp brush and/or a daily scalp massage is helpful to get the blood flowing as well as remove buildup on wash day."
Brush your hair properly.
"Get regular trims or dustings to avoid split ends and hair breakage. Avoid too tight hairstyles and braids because these can damage the hair follicles. Avoid brushing dry curly hair as this will only tug and pull on tangles and knots, breaking them right off."
Cover your hair when needed.
"Sunlight is great for the body and vitamin D production but UV rays can be very damaging for hair. Cover the hair if you are going to be in the sun for extended periods of time to avoid sun damage. UV rays can also cause gray hair to turn yellow."
"Protect hair at night by avoiding cotton pillowcases and tossing and rolling around on the hair.  Instead, use a bonnet, buff or scarf and/or pineapple the hair.  In addition, a silk pillowcase is ideal to keep the hair knot-free and protected."
Ultimately, taking care of your hair requires plenty of time and effort. It may be a lot to take in, but the rewards of your hard work will surely be worth it in the long run!
Doctors Say This Is The One Hair Supplement You Should Be Taking To Boost Radiance, Growth, And Shine